Love Lounge

Love Lounge
Join us in the Love Lounge!
The Love Lounge, presented by Eph Apparel, is a perfect place to take a break during the show with your wedding besties and enjoy cocktails from Nomad Box Bar! The Love Lounge will feature stylish furnishings courtesy of Collective Event Rentals, and beautiful room draping by Decor by Rick. Sit back with a drink and enjoy some music & entertainment from Cherry Tree Productions!
Eph Apparel will also be featuring their latest custom looks in the lounge to help you get on the Best Dressed list!
The Wonderful Wedding Show is once again proud to partner with Love is Love Collectives, a national collaborative collection of wedding resources for 2SLGBTQ+ folks.
Lots of love to all our Love Lounge partners!
Presenting Sponsor Eph Apparel
Non-Profit Partner Love is Love Collectives
Furnishings Collective Event Rentals
Lux Bar Nomad Box Bar
Coffee Bar Perk Coffee Bar
Selfie Wall & Marquee Letters PartyAfterParty Rentals
Music Cherry Tree Productions
Lounge Draping Decor by Rick
Lighting & TV's Audio Works Production Services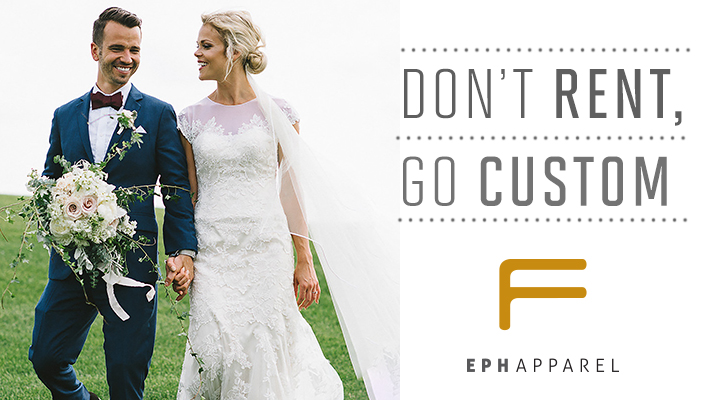 About Eph Apparel:
Eph Apparel offers each customer the ability to be the architect of his own suit at a fraction of the price of a traditional retailer. Customers are empowered to design their suit from the ground up: cuff to lapel, pocket to jacket liner, collar to monogram, in any of over one thousand different fabrics.
Eph Apparel is changing the way the modern man buys his suits – instead of window browsing and sifting through racks we come to you: to your office, to your city, to your home PC via our revolutionary e-commerce platform that lets you create a unique measurement profile that you can use to purchase at the click of a button-all backed by our Flawless Fit Guarantee and industry leading customer service. For more information about Eph Apparel visit their website at https://ephapparel.com/